In Europe, our portable tankless water heaters are the perfect solution for your camping, animal care, or off-grid needs. The CEL5 and CEL10 are both available in three different mbar's when viewing the products on our website. So how do you know which mbar you need and why does it even matter? The warranty on the CEL5 and CEL10 applies to the European Union and can only be honored if you have purchased the portable water heater in the correct gas specific mbar for your region.
What is an mbar?
Mbar stands for Millibar Pressure Unit and is used to measure low range gas pressure. Other common abbreviations for millibar are mb and mbr. One millibar is equal to one-thousandths of a bar which can also be described as the pressure of one newton per square meter. It is also common to see the term mbar used in meteorology. Common conversions are shown below in the chart.
Source: https://sens4.com/vacuumunits.html
CEL5 vs. CEL10
Both the CEL5 and CEL10 are offered as portable tankless water heater options at Eccotemp. Both models are compact, easy to store, and lightweight for easy transportation. The ideal operating range for the Eccotemp CEL5 and CEL10 Portable Tankless Water Heaters are 20~80 PSI. The CEL5 has a 5 liters per minute (LPM) flow while the CEL10 has a 10.0 LPM flow. Both models are compatible with 12-volt pumps and works perfectly with our EccoFlo Pump & Strainer.
These portable tankless water heaters run on a standard 20 lb. liquid propane tank and are equipped with an electronic ignition. Powered by 2 "D" cell batteries, they are ideal for on-the-go use.
To understand which mbar is best for your country we have created a simple chart with each country listed below their designated mbar.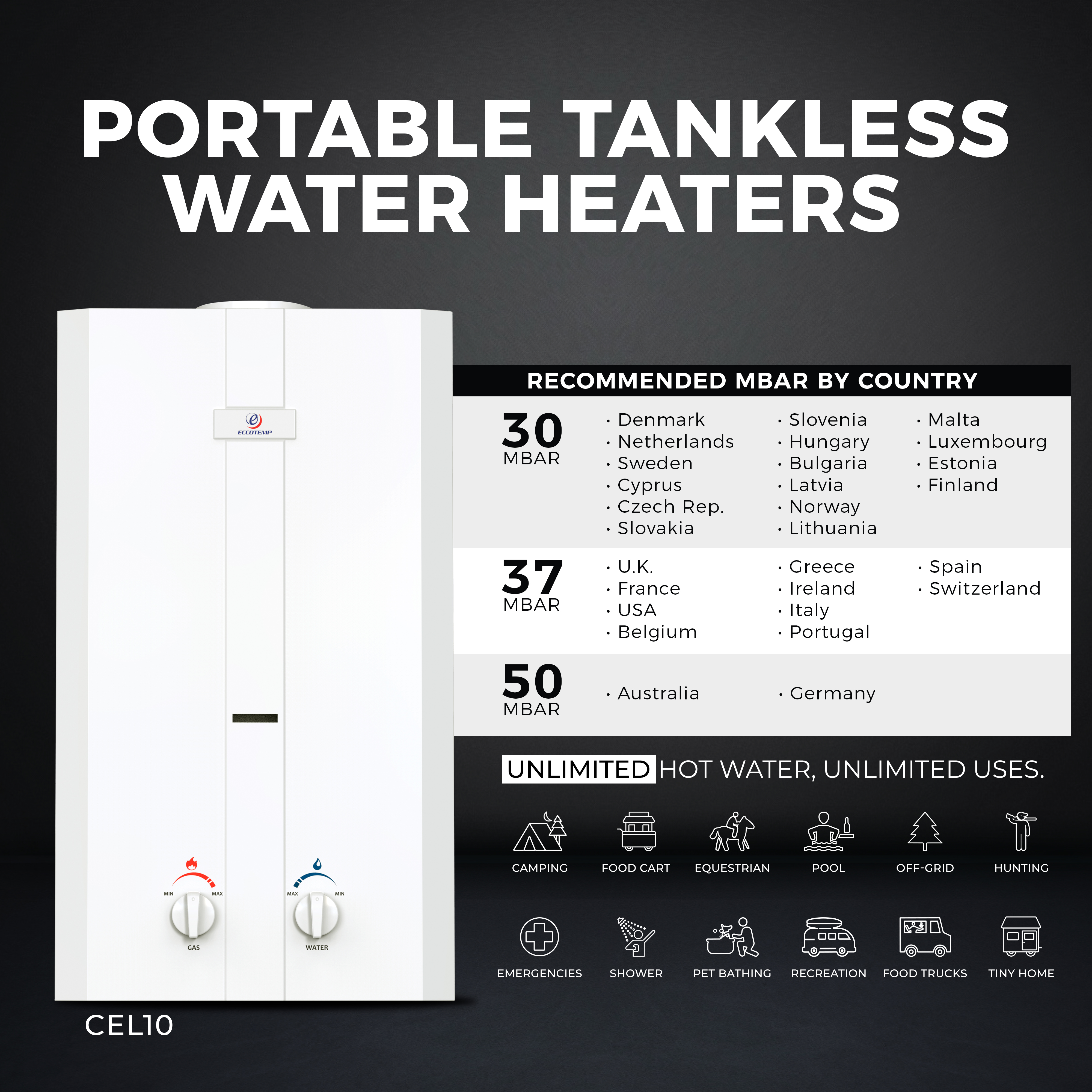 If you are still unsure about which product, the CEL5 or CEL10 is best suited for your needs, or still confused about which mbar you need we'd love to help! Visit our website here to chat with our customer support team.