Whether you're camping in the Peak District or preparing your gear for a hike in Wales, we've got the perfect way to ensure your camp shower is equipped with hot water regardless of whether you have access to electricity.
Portable Outdoor Instantaneous Water Heaters
The ultimate solution to heating up water for your camping shower without electricity is a portable water heater. These ingenious products provide instant access to hot water using a standard-size propane tank and 2x "D" cell batteries. You can even use them to bathe your dog or horse, wash down equipment, backyard showers, greenhouses, and so much more—they really provide a must-have product for generating hot water without electricity.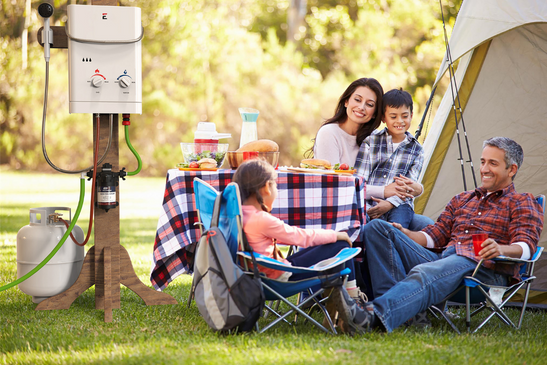 What if I don't have pressurized water?
The Eccotemp EccoFlo 12V Pump and Strainer is a portable, compact water pump allowing pressurized water wherever you need it. Whether you're needing to pull water from a creek or water barrel, this pump can be used in any scenario to pressurize liquids. With a self-priming feature, this allows the pump to safely run dry without any damage. Powered using only 12V, this water pump can be used virtually anywhere.
Now, get outdoors and enjoy the luxury of hot water anywhere without electricity!